From advertising campaigns for Burberry, Cartier and Mulberry to work with magazines including Vogue and Vanity Fair, manicurist Trish Lomax certainly keeps busy. Add to that her work as Nail Ambassador for Dior in the UK and her wealth of knowledge concerning all things nails and she begins to look like a superhero! Read on to discover the top coat she can't live without, her tips for a flawless manicure and so much more.
Can you tell me a bit about yourself?
I am originally from the Wirral (North of England) and moved to London with my family when I was 10. I never enjoyed my time at school in London, I was not an academic student but always very practical and creative rather than into studying. As a child I was always into painting and coloring in books, pictures and anything colorful and arty. I never really knew what I wanted to do when I left school at 17.
How did you first become interested in beauty, and what led you to become a manicurist?
From an early age I have always been interested in beauty and nails, as a child my grandmother would always groom my nails weekly using a traditional chamois buffer and nail powder (I still have them!). This made me realize the importance of nail care. I purchased my first nail polishes at about eight years old, it was an old brand called Constance Carol in a black and a yellow -- my grandmother wasn't impressed with my color choices! I continued with maintaining and painting my nails into my teenage years.
I attended my first nail course in 2000 and became hooked -- I continued to study everything nails whilst working as a full time personal assistant. As I was so passionate about having a career in nails my life took a U-turn, leaving everything behind -- my home, career and social life. I went on my pursuit to professional happiness and everything nails. I worked hard consistently and was driven by making my dream happen and not wanting to miss an opportunity, which is when a door opened. This is where my life changed and the rest is history!
What nail trends are you most excited about right now? What makes them stand out for you?
3D Nails/Embellished Nails.
They are a great yet simple way to adorn your nails with a little bling whilst making a statement -- easy nail art. Nazila Love Glamour has a great range on false nails and 3D nail jewelry.
Almond, oval and stiletto nails.
I have always been a fan of the softer nail and absolutely cannot stand long harsh square talons, so vile!
What are your top 5 favorite nail products?
This is such a tough one to answer because there are so many things I couldn't be without. Not one brand can provide everything you need in order to achieve the best results. The top products would have to be: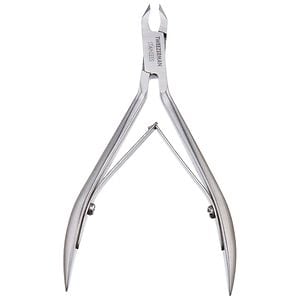 1)
Tweezerman Nippers.
The best tools in town in my opinion!
2)
Dior Top Coat.
This thin formulation sets and speed up drying time (by the time you've applied it to the tenth finger the first ones touch dry). Its shaped brush enables quick application and it has a low viscosity, making application quick and easy. It leaves a super glossy liquid finish and it doesn't go thick.
3)
Diamancel Flexible Diamond Nail File #2.
Everlasting files are electroplated with diamond chips -- they're tough yet gentle for filing and shaping fragile nails.
4)
Mavala Cuticle Oil.
It smells of roses.
5) Polish:
OPI
,
Essie
, Mavala,
L'Oreal
, Dior & CND. I can't possibly choose between them as I love them all.
What are your top 3 nail tips?
1)
Moisturize.
Apply cuticle cream or oil daily to soften cuticles and keep nails nourished and flexible.
2)
Polish.
When painting nails, always remember to leave a small gap between the skin and the edge of the polish, never paint the skin. By doing this you can create the illusion of a perfect nail shape and you won't dry out cuticles.
3)
Time.
If you have no time to manicure or pedicure, make sure your nails are filed, cuticles are moisturized and buff nails to a shine using a miracle shine buffer for naturally groomed hands and feet. Don't forget lashings of moisturizer (hand and foot cream).
Being a manicurist must be fun, but what do you do in your spare time?
I like to spend quality time with my friends and family whatever we get to. I love watching films and listening to music when I relax.