I am absolutely thrilled to bring you today's First Look Fridays feature. The amazingly talented Daniel Curet -- the hair department head for none other than The Vampire Diaries -- granted me an exclusive interview. Daniel has worked on many shows and movies throughout his storied career, including Pushing Daisies, (500) Days of Summer, The Jane Austen Book Club, Georgia Rule, Ally McBeal and Fargo. Read on to discover what he loves most about working with The Vampire Diairies cast, his favorite products for starlet Nina Dobrev and so much more!



What is your favorite thing about working on The Vampire Diaries?
Working with our actors is my favorite thing about working on the show. I do Nina Dobrev, Paul Wesley, Ian Somerhalder and Katerina Graham with the occasional guests like Gina Torres and Malese Jow. They're young, vibrant and hardly ever sit still, which makes styling a little challenging at times, but fun.

What is the biggest challenge you find in creating the various hairstyles on the show?
The production schedule is our biggest challenge and often makes hairstyle changes prohibitive, even though we sneak some new looks in for special occasions.

What products do you use to create the vampires' hairstyles?
I use the same products on both vampires and humans, but we try to give each character a different and unique look. Don't forget our vamps blend in with the humans but may have a style that is timeless. For example, Paul (who plays Stefan) has an updated James Dean [look]. Ian (who plays Damon) has a rocker look.



Conversely, what products do you like to use on Elena and the other humans to show the contrast between them and the vampires?
Nina (who plays Elena) has beautiful, naturally wavy hair that has been given a Brazilian Keratin blowout in LA by Riawna Capri, to help us cope with the humidity in Atlanta (where we film the show). I usually fluctuate between three product lines on her -- Kerastase Nutri-Sculpt Oleo Relax, MoroccanOil Cream and Oil, and Unite Lazer Straight Fluid -- to blow her hair out with a flat paddle brush and a large round brush. I generally avoid the flat irons. With this routine, I can keep her hair clean from one day to the next and she can avoid shampooing every day.

What are your favorite products?
There are a few products I can't live without: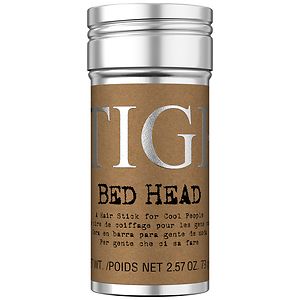 1) My old standby TIGI Bed Head A Hair Stick for Cool People



2) TIGI Bed Head Spoil Me Defrizzer, Smoother & Instant Restyler

3) New favorites are:

Shuga Stay Cream
Ouidad Moisture Lock Cream
Unite Eurotherapy Boosta Spray
White Sands Liquid Texture Soft Hold
Osmo Essence Fibre Paste
Osmo Essence Clay Wax


What are your top 3 hair tips?

1) Wash and condition your hair regularly.

2) Maintain your color (or reevaluate it).

3) Support your local hairstylists in these difficult financial times. We can offer money-saving services and keep you groomed for the competitive job market!

Be sure to visit Daniel's website, danielcuret.com, for even more information about him and to see pictures of him in action!