About two years ago, I had the delight of meeting manicurist Lulu Cooper at an event. As she did my nails, we gabbed about all things beauty, fashion, celebrity and otherwise! Lulu is charming, witty, hilarious and whipsmart. It's my extreme pleasure to feature her this week on First Look Fridays. Read on to discover her favorite nail polish, the pedicure bowl she takes everywhere, the top coat she can't live without and so much more.

Can you tell me a bit about yourself?
I was born in Jersey City. After my parents divorced, we moved to Oriental, North Carolina, to live with my Aunt Juanita on my mom's side, complete with outhouse and water from the hand pump in the front yard! For Christmas in 2nd grade my Aunt Juanita bought me a Candie's doll head, you know the one with just shoulders. You could color her blonde hair black, red or purple. That's when I got hooked on the beauty industry. We moved back to Jersey City, then to the Bronx with our new stepmom, then our final stop was in 1986 in Teaneck, New Jersey. My girlfriend, Romaine Hassannah, would be my first willing participant who would let me glue the long, curved "Dragon Lady" tips without cutting them down, of course, & apply 5 Second powder and glue, finished with a Revlon red. She would also let me do her makeup and style her hair for fun.

After dropping out of high school, I worked at Steinbach, Macy's, Shoe Town, The Gap ... feeling hopeless and sleepwalking through life. Then one day I decided to tour Parisian Beauty Academy in Hackensack just to see if I would like it. I loved it. I thought about just taking the manicuring course but Jody, the recruiter, assured me I would get more from the full cosmetology course ... she was right.

What are some of the highlights of your career?
My first celeb client was Coko from the R&B group SWV. Her nails were 3 to 4 inches long. It took me at least 4 hours to do those nails. Airbrushing Nail art was hot in the early 90's. It was her favorite.

My big break came from a hairstylist named Angie Phipps. I was her hair assistant on a photo shoot when her agent, Debroah Martin, told her Mikki Taylor of Essence magazine was looking for a nail tech to perform a manicure for her beauty book. That led me into the freelance and celeb world as a nail tech.

Many years later I went back to my old beauty school to get my teachers certificate. Parisian had become a Paul Mitchell partner school and during that time Creative Nail Design was used at the school. In the state of New Jersey, you have to have a cosmetology license to teach hair, skin or nails. After tons of hair color, haircutting and hairstyling over the next two years, I finally became a cosmetology teacher and an Educator Ambassador for CND at the same time. (Please note that I HATE hair.)

How did you first become interested in nails, and what led you to become a manicurist?
After graduating beauty school I was very fearful of hair. I didn't feel confident at all. I thought I would do nails because they are easier. And we all know that is not true. Nails are the most difficult aspect of beauty to master. Hair and makeup can be messy, sloppy, not finished and it could easily be said it is the "look." However, with nails there isn't that grey area. Nails are either finished or sloppy. Ugly nails are just ugly nails. I made tons of mistakes ... product all over cuticles, bumpy nail surfaces, crooked tips, oops and uh-oh's.

What are your favorite nail polishes and why?
I have a few loves.



Chanel enamels have tons of pigment. "Blue Satin" applies just like its name.



OPI and Orly Matte Series are pretty special. My students cant keep their hands off of those!



Creative Nail Design Ridge Out base coat gives you a smooth surface.



Dashing Diva Top Seal smooths out any deep smudges and dries very quickly. It reminds me of how UV top coats cure but without the UV light.



Seche Vite Dry Fast Top Coat
will always be a staple in my kit. Working backstage with busy models trying to text loved ones, read a book, or eating with newly polished fingertips ... you need something that's reliable.
What are your top 5 beauty essentials?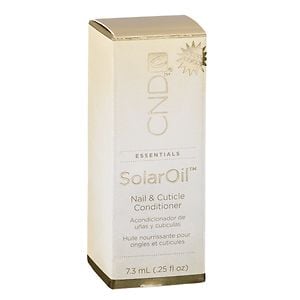 1)
Creative Nail Design SolarOil Conditioner
. It doesn't matter where I use it -- someone always recognizes the scent. "Almond Cookie" is the first thing they yell.
2) My "Black Make-up Belt" from
Alcone
. I call it my money maker. It holds my implements, alcohol wipes, lotions, tiny Evian spray mist, files, buffers, pads, polish remover ... I can do a full manicure from my hip. It's always a big hit backstage or on photo shoots. On the set of
Ugly Betty
, in between takes,
America Ferrera
would sit in her chair as I would manicure her nails. The directors would yell "places everyone" ... she would go to her mark, I'd duck behind a wall or find the sweets on the craft table. When I heard "and CUT," I would go back to pick up where I left off. We would do this back and forth until I was complete with her high gloss buffed natural nails.
3)
Graham HandsDown Ultra Nail and Cosmetic Pads
. These little pads changed my life. These cotton, plastic-backed pads protect your nails and skin from any product. I haven't used regular cotton in years.
4)
Pedicure Bowl by Pedicurebowl.com
. I have all three pieces ... the pedicure bowl, treatment tray and the manicure bowl, just because it was so cute! They aren't heavy at all. My color is chocolate brown with a water-blue on the inside of the pedicure bowl. A nylon black carrying case makes it easy for nail techs on the go. I have these glass beads I pour on the bottom of the bowl. It's always a wow in the room when I pull it out. Sets you apart from other technicians.
5)
OPI Implements
. The cuticle and toenail pushers are my favorite. They safely remove the cuticle while pushing back the eponicium.
What are your top 3 nail tips?
1) Never let a nail tech use a credo blade on your calluses. Cutting cuticles is also outdated. It only creates scar tissue. Any nail tech that's still doing these techniques is stuck in a time warp and needs a good talking to! There are so many serums for tough calluses. A.H.A cuticle treatments and cuticle oil treatments for dry skin should be on every educated nail technician's retail shelf.
2) Ask your nail tech tough questions ... can I see your license? Have you taken any classes recently? If so, can I see your portfolio and how do you clean your pedicure unit? There are a lot of people in nail salons "acting" like nail techs. Performing low-end services ... taking short cuts that have harmed our industry. If the service is too cheap, that only means something important is being neglected!!!
3) NEVER PULL OR PICK PRODUCT OFF YOUR NAILS. Acrylics do not harm or eat away at your nails. If you pull them off without soaking them in pure acetone or product remover you can rip layers of your nail plate COMPLETELY OFF. It takes months to grow that type of trauma off your nails.
Being a manicurist must be fun –- but what do you do in your spare time?
In my spare time I love to bake cakes while listening to music and singing out loud of course! Paula Dean is my white momma. I'm in sick love with her!!! I love watching Food Network ... any cake show or contest. It's nothing for me to have a slice of cake for breakfast. I'm also writing my book,
Confessions & Life Lessons from a Freelance Nailtech
. Pray for me!!!