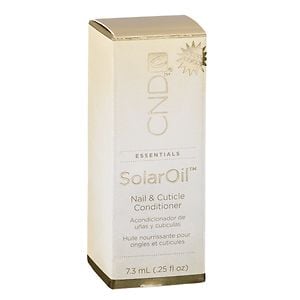 So I have a confession to make. No matter how many manicurists tell me I need to take better care of my cuticles, I just don't listen. Now, I'm not a nail biter and I don't sit around picking apart my nails and cuticles ... but they do tend to become pretty ravaged by changing climates, excessive travel and lots of stress. Enter
CND SolarOil
.
This little bottle had been sitting on my nightstand for close to three months before I finally picked it up. I looked at it every day before that, thinking, "Well, I
could
brush this on." And then I went about my business without even opening the bottle. In the past two weeks, it's like something clicked in my brain and told me that if I didn't start treating my cuticles better, I would regret it ... and so this handy-dandy little bottle has become my nails savior.
I've taken to brushing SolarOil on my cuticles right after I get out of the shower. I love the nail polish brush and the ease with which the treatment just soaks right into the skin. I've seen a marked difference in how much better my cuticles look in less than two weeks -- in less than one week, in fact! And this is while I've been in Cleveland, where the high was around 30 degrees. I have fewer hangnails, less skin breakage and my nail beds just look generally healthier and better taken care of.
Plus, I love the almond scent -- it smells so amazing and just begs to be used!
CND SolarOil retails for $7.50 at
drugstore.com
.