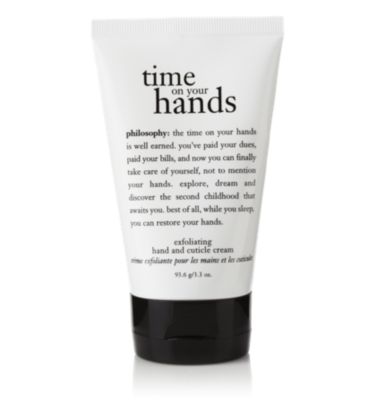 The time has officially come when my hands can't take the cold. It happens every year, but I always think maybe I'll be spared. At least this year, I have Philosophy Time On Your Hands Exfoliating Hand and Cuticle Cream by my side.

If you want to rid your hands of dryness, cracking, chapping and redness, this hand cream is about to become your new best friend. It's formulated with glycolic acid to exfoliate the skin and a low pH for maximum efficiency.

I must admit I was a bit apprehensive about a hand cream that says it exfoliates -- what would the consistency be like? Would it be too harsh for my sensitive skin? Well, I'm here to tell you that the cream is rich and lush without any rough sloughing crystals to be seen. It's just a lovely cream that happens to exfoliate and smooth the skin with every application!

Unfortunately, this product is no longer available.