From
Winona Ryder
to
Keri Russell
, manicurist
Gerry Holford
has worked with some of the biggest names in the business. Read on to find out about her favorite nail trend, the nail polish remover she can't live without and so much more.
Can you tell me a bit about yourself?
I grew up between London and the United States. I moved to New York City in the 90s and cannot imagine living anywhere else! I studied journalism and writing is still a huge passion of mine. With my career in nails, I feel I can be creative and also incorporate my love of writing into my beauty blog.
How did you first become interested in beauty, and what led you to become a manicurist?
A career in nails happened very organically for me. My mother always had impeccably groomed nails and she would give me weekly pocket money to paint her nails. I was obsessed with her polish bottles and also with watching her do her makeup and hair. I think everyone around me thought I would grow up to be a hairdresser!
In 2007, I began working backstage at New York Fashion Week. I really enjoyed the creativity and camaraderie of the beauty teams backstage and ended up heading nail teams for several seasons. No matter what I was doing, I would always take time off to do the shows twice a year and after talking to the top hair and makeup professionals in the business, I knew that I wanted to make the leap into being an editorial manicurist. Being a manicurist was always the career I never knew I wanted to have!
What nail trends are you most excited about right now? What makes them stand out for you?
Nude nails are huge right now. RGB started the trend and now all the polish lines are following suit. I like to go one shade lighter than skin tone and paint two coats. It's a sophisticated take on the pale pink that used to be everyone's go-to.
A pop of bright/neon color. I used orange neon on the tips of nails for the Banana Republic/Milly presentation. It's a fresh and modern twist on the French manicure and elongates the nail.
My personal favorite nail trend is a glitter ombre. I love to do this on shoots, on my friends and on myself. Just paint your favorite color and then tap 2 thin coats of glitter polish from mid-nail to tip. It's your everyday nail art!
What are your top 5 favorite nail products and why?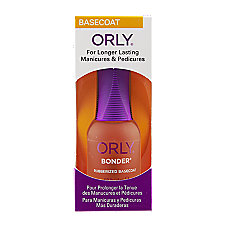 Orly Bonder Basecoat.
This rubberized base coat gives you a clean base to paint and the polish really adheres to it, giving you a longer lasting manicure. This really is my #1 can't-live-without item.
Sally Hansen Salon Manicure Dry & Go Drops.
It conditions cuticles and dries nails in 60 seconds flat. These come with me on every photo shoot!
Deborah Lippmann Cuticle Remover with Lanolin.
You just apply, wait a few minutes and then gently push back -- never cut -- your cuticles. You don't even need to soak your nails in water.
Cuticle oil.
The easiest way to get your nails and cuticles in shape is to rub a jojoba-based oil into your nails every day. Doing so will keep cuticles moisturized and free of dreaded hang nails and your nails strong and long!
Zoya Remove+.
Gentle and effective, it removes polish and conditions your nails at the same time.
What are your top 3 nail tips?
1) Moisturize your nails and cuticles with oil -- not cream -- every day. I use mountains of jojoba oil, it's the best thing for your skin!
2) Get regular manicures! Taking the time to keep your nails groomed and painted will protect nails from chipping and splitting and will encourage you to take extra care with your nails in order to keep the polish looking fresh.
3) When applying sunscreen to your face each morning, take a moment to also apply to the backs of your hands. The hands are a sure-fire, telltale area for aging and this trick definitely keeps time on your side.
Being a manicurist must be fun, but what do you do in your spare time?
My mind is on work 24/7. I look at myself as a business and at my agent -- Rona Siegel at Rona Represents -- as my business partner. I'm always looking for ways to expand and brands to work with. Sometimes it's hard to switch off, I have to force myself! When I'm not working, I'm with my son or my friends. I usually work six days a week, so I need Sunday to relax and unwind. I try to meet friends for brunch or do something fun around the city like wander through Central Park, check out a museum exhibit or even just go to the movies. In the summer I love to go to Coney Island for Nathan's and the rides or make a quick escape to the Jersey Shore or Rhode Island for a beach weekend with friends. Even a couple of days away leaves me recharged and ready to take on a new work week!