If you're into nails, chances are you've heard of Kimmie Kyees. She's manicured the hands of the biggest names in the business, from Rihanna and Gisele Bundchen to Miley Cyrus and Ciara. And you know what? She got her start at the salon my dad used to go to in Columbus! Small world. In any case, she's full of knowledge about all things nails. Read on to discover her favorite top coat, her number one tip for getting a flawless manicure and so much more.

Can you tell me a bit about yourself?
I am one of 5 kids raised in the Midwest. I was born in Ypsilanti, Michigan many years ago. :) I lived in Naperville, Illinois for a few years and then we moved to Columbus, where I lived until I was 28, at which point I moved to Los Angeles. My sister lived out here and wanted me to move out here for years! I went to school at the Ohio State School of Cosmetology with my best friend Sacha!

How did you first become interested in nails, and what led you to become a manicurist?
The first time I got my nails done was in my mom's friend's basement! Ruthanne was my first manicurist! After that I went to a flea market for awhile and the manicurist there was always soooo behind schedule, because she liked to talk a lot with her hands. My friend Kayla and I were waiting for my appointment and the manicurist asked me to go to Sally's to get her a top coat, so while we were there I made a statement that I should just learn to do nails myself. Kayla said I bet you couldn't, I said I've watched other people do my nails for so long I bet I could. So on that bet I spent $100 buying nail supplies, tips monomer and powders Alpha 9 -- I'll never forget. Kayla was my test client, poor Kayla's nails, learning to do acrylics -- some ugly nails for a while till I got the hang of it.

I had a basement salon at my mom's and started my own at-home manicuring business for my friends and family. That home salon is still there just the way I left it and I am put to work every time I visit!

After high school, my best friend Sacha decided she was going to nail school and that I should come too and get my license! Thank god for Sacha! After graduating, we worked together in a couple of salons doing nails. Charles Penzones Grand Salon is where we were for 6 years, it was hard to make the move to LA because I was leaving all my clients and my best friend!


Your celebrity clientele is really impressive! What are some of the biggest (and most fun!) celeb nails you've gotten to do?
Biggest and most fun, WOW depends on who you ask. My dad loved that I used to work with Cheryl Tiegs, My brother loves Jenna Jameson, girl nieces love anyone Disney I've worked with from Miley Cyrus, Selena Gomez to Ashley Tisdale. Boy nephew likes that I've worked with Kanye West and Rihanna! My friends on Facebook love the Kardashians!

One of my most interesting clients was Quincy Jones -- he's a living legend -- his stories were so intriguing I could have listened to him talk all day long.

I guess I would say Rihanna is my biggest but I love ALL my clients for different reasons ... I'm so blessed to work with so many amazing people. I say Rihanna because with her I have traveled, been invited to work for multiple awards shows, advertising, so many editorials. She has been a big part of me getting recognized for what I do. Plus her entire crew is a BLAST! Everyone from management to the Glam squad, her personal Assistant to her friends. It's so much fun to work with her and all of them ... not to mention what a sweet fun person she is, I love her!



I love OPIfor constantly having amazing colors and a great brand, plus the names are sooooo fun!



Orly and SpaRitual have some amazing shades as well.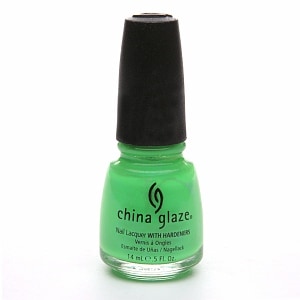 China Glaze has the greatest neon and bright colors out there.



Essie has beautiful light shades!



I just recently was turned on to Deborah Lippmann -- she has some creative colors and the quality of her polish is outstanding!

What are your top 5 nail-specific product essentials?


Orly Bonder Rubberized Basecoat



Seche Vite Dry Fast Top Coat, .5 fl oz



OPI AccuNip Plus Precision Cuticle Nipper



Creative Nail Design Cuticle Remover



EZ Flow Pro Shine Buffer

Do you have any favorite products outside the nail realm? What are some that you like and why?
I make my own sugar scrub using organic sugar from Trader Joe's, grapeseed, almond and apricot seed oils from the cooking section, with a splash of whatever essential oils feel good for the season! Its all natural ingredients and it leaves the skin looking and feeling glorious! (I borrowed that word from Kelis, she says it all the time ... made me think of her as soon as i typed it!)

What are the biggest nail trends for spring and summer? Any emerging trends for fall?

I feel bright neons coming in again ... I have done a lot of bright neon pinks lately on everyone from Rihanna and Nicki Minaj to Ciara.


Zoya's new Sparkle line is incredible ... I think they have mastered the glitter look without the aggravation of trying to get it off later. Try Charla -- that color is outta this world!


But I also really like the new pastel from OPI -- the Shrek colors are pastels, very soft and pretty shades of green, blue and purple!

And of course Minx -- I think that they are here to stay for a while. It's creative and eye-catching!


For the fall I like deep blues, [like] Star of Bombay by Orly -- I just used it on a Lady Gaga gig. And there's new La Playa by Orly, [which] could even be nice for fall -- it's a blue that actually looks blue in all lighting.



I also think browns such as taupe -- maybe with a hint of purple in them as well. The nude colors were so HUGE this spring I think a deeper shade of brown might just be the fall version of the nude nail!

What are your top 3 nail tips?
1) ALWAYS use polish remover on the nails before polishing even if you are not removing any lacquer. It dehydrates the nail plate and removes any oils or lotions that you may have on the nail plate. This creates a perfect base for polish to adhere. You can even go a step farther and use EZ Bond or Chip Skip by OPI -- they balance the pH in the nail so your manicure lasts even longer!

2) Use a base coat and top coat -- it matters!

3) If you have dry cuticle and sidewalls, use a file ... it will change your life. It's the same idea as using a foot file but it smooths out rough dry areas ... follow that with a cuticle oil! Whoa!

Being a manicurist must be fun –- but what do you do in your spare time?
I love to travel, hike, rollerblade, ride bikes. I'm very adventurous. Just today I registered to do a Urbanathelon in Chicago with my friend Josh in October ... so excited. You run, then do obstacle courses, run some more, jump over cabs and buses ... amazing, hope I'll be able to finish -- gotta start training! I love to spend time with my family, which is hard [since] they live in Ohio. I go home whenever possible. My teenage niece Breanna is coming out to live with me for the summer -- she came last summer too. She worked as my assistant on sets and loved it! I take her to where famous people are and she works for free -- what a deal! She's so mature and professional, I was so proud of her last summer. But the best part is while she's here it gives me the excuse to do so much fun stuff. Vegas, concerts, go to the beach, we have a comping trip planned and Lake Tahoe for the 4th of July! FUN FUN FUN! Plus my dad's talking about booking a Disney World trip with the whole family. Should be a great summer!