Starting today, I'm taking the
Neutrogena Ultra Gentle Cleanser Challenge
. What is this, you may ask? I'm pitting the
Neutrogena Ultra Gentle Daily Cleanser
head to head against my current favorite cleanser (in case you forgot, it's the
CeraVe Hydrating Cleanser
) and seeing how it makes my skin look and feel.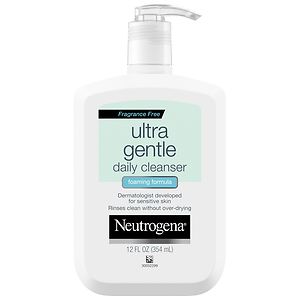 The
Neutrogena Ultra Gentle Daily Cleanser
promises to remove 99 percent of excess oil, dirt and even makeup while leaving behind 99 percent of skin's natural moisture and preserving its barrier. Plus, it's formulated with a hypoallergenic fragrance and clinically proven for sensitive skin. I'm really excited to try out this cleanser. It's been on my back burner for awhile now, mainly because I'm so in love with how the CeraVe one makes my skin feel. It will be really interesting to see if I can add another cleanser to my arsenal, especially with humid summer months just around the corner!
Want to accept the Neutrogena Ultra Gentle Cleanser Challenge along with me? Just head to
ultragentle.com
and get started! I'll be tweeting and Facebooking throughout the challenge, so be sure to keep checking back to see how my challenge is coming along, too!
And here's the most exciting part.
TEN WINNERS
will receive their very own full-sized bottle of Neutrogena Ultra Gentle Cleanser! To enter, use the Rafflecopter widget below. Good luck!
a Rafflecopter giveaway